Main Content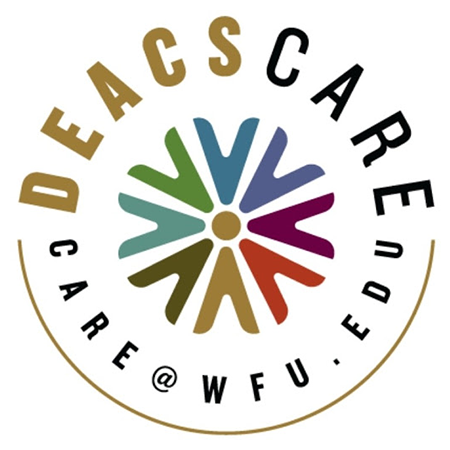 Let's cut to the chase: when you kick off the Fall semester no one expects to be having a hard time come midterms, homecoming or final exams. Many of you have spent the summer traveling, soaking up time with friends and anticipating the fresh start you'll have when you're back on campus marked by fun and great grades. As much as you strive for that to become reality, many of us encounter that moment when "life" hits and the ideal semester you had imagined is threatened. Whether this is your story, or you feel like the storm cloud is resting over your start to the semester, the Office of the Dean of Students is available for support.
For all of the hurdles DOS knows you will face over the course of your time at Wake Forest, where to get help does not need to be one of them. The CARE Team and DOS Case Managers know that the hardest part about getting support is knowing where to go first. The resources at Wake and in the Winston Salem, community are abundant, and Case Managers are here to help you navigate which places and people can serve you the best when you are in distress. It may not be you that is struggling but rather a classmate, hallmates or friends that may be going through a hard time. Regardless, you are welcome to stop by DOS, call or e-mail a case manager to set up a time to talk or refer a friend.
Case Managers work with students and other members of the university community to provide support on and off campus to address a wide variety of struggles and student needs. We build partnerships with offices across campus to ensure that you as our students can access resources available to you as easily as possible. We will help advocate for you, support you and listen to whatever you are experiencing.
In the event the concern is more significant, the whole CARE Team will assess, respond and evaluate those needs and create a coordinated team of support.
So, although no one plans for suffering, you can feel confident that Case Management will jump in with you if you ever get there. #DeacsCARE
How to contact CARE:
STOP BY: Benson 139
CALL: 336.758.2645
E-MAIL: CARE@nullwfu.edu
Recent Posts
November 26, 2018

November 26, 2018

October 12, 2018