Main Content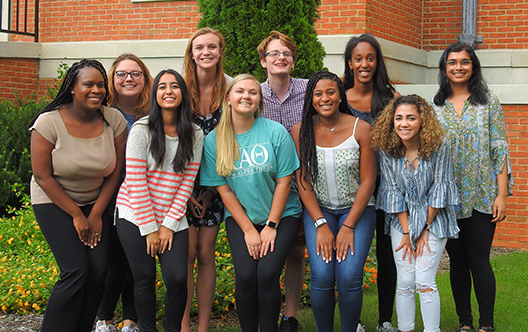 Whether you're a student, staff member or visitor to campus, you've probably been to the Benson University Center, but what you may not know is that Benson relies on a dynamic team of Student Managers to keep the building and its many services running smoothly. 
Becoming a Benson Student Manager is a possibility for students who have worked at least a year in one or more of the ten Benson job stations responsible for everything from answering the phone at the university switchboard to creating marketing materials for student organizations, to setting up chairs and tables for the hundreds of events that take place in Benson each year. Student managers assume primary responsibility for training, scheduling and employee accountability in their area, setting goals and performance expectations for the team they supervise. Working together, they monitor the building after hours and on weekends. It's a busy job, and enables these bright, committed students to grow as student leaders and and develop essential skills for future careers.
One would think the demands of supervising fellow students, along with classwork and other commitments, would be enough, but there's more! The "Benson House Cup" program divides job stations into teams, with student managers as team leaders, competing to see which team can offer the most student programs over the course of the year. The purpose of these programs, offered in and around Benson, is wide-ranging: have fun, help students de-stress, teach the campus about diverse cultures, find ways to focus on gratitude and care for others. Last year, Benson employees offered about 60 such programs: setting up tables for students to write "thank-you" notes to their professors, handing out flu prevention kits, offering free snow cones on a hot day, and having a pumpkin-carving party on the Benson front patio.
Here's what a few of our student managers have to say about why they love the job:
Being a student manager is awesome because I really get to see how my job on campus has an impact on students. Benson is at the heart of our university and so I love being behind the scenes of what makes our campus work!
–Jamie Van Horne, Setup Crew
…you have the opportunity to interact with and build relationships with a multitude of different people. I have gotten to know a ton of different students through this position, even if those students know me as the girl who is always handing out free stuff in Benson. I've made friends in staff members, my employees, and fellow managers that will definitely last a lifetime. |
–Raven McCorkle DOS Office Assistants
I love the conversations and interface with host organizations and hearing the goals that they have for their organizations. The goal is for every Deacon to find his/her place and our job makes sure that they have the chance to do so.
–Sydnee Peterman, Event Resource Managers
…being able to work on a team with other students who share a love for design and creation. It is amazing to have a designated space for creativity and to help facilitate the creative process with university organizations.
–Lauren Epps, MRKT Student Marketing Team
Recent Posts
November 26, 2018

November 26, 2018

October 12, 2018