Main Content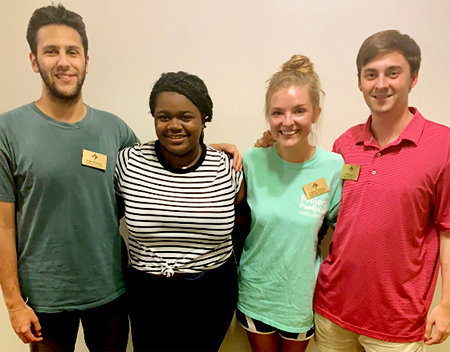 2018-19 Engagement Consultants
The Wake Forest University Engagement Consultant Program is a student-centered program that focuses on connecting students to a wide variety of involvement opportunities on and off campus. The EC Program aids the Office of Student Engagement in their mission of "Helping Every Deacon Find Their Place". The EC Program has students workers who assist students in creating a sense of belonging on campus by providing one-on-one and small group coaching sessions aimed at campus involvement, generating personalized Interest Matching Reports, publicizing ways to get involved, coordinating programs including involvement fairs, facilitating workshops & trainings, mediating organizational conflict and much, much more.
The EC Program has two primary focuses; the co-curricular student experience and the student organization outreach. Because success in the co-curricular student experience relies heavily on effective student organization performance, ECs are tasked with training student organizations in the successful execution of initiatives and programs, enhancing leadership and peer accountability as well as increasing member enrollment and retention. By providing opportunities to engage, train, and collaborate with both of these platforms, the EC program is able to provide a holistic involvement experience for both individuals and student organizations.
Students who wish to connect with the engagement consultants can complete the Interest Matcher form found at the Student Engagement website. Those who wish to partner with the Engagement Consultants can reach Ashley Morris at morrisa@nullwfu.edu.
Recent Posts
November 26, 2018

November 26, 2018

October 12, 2018