Main Content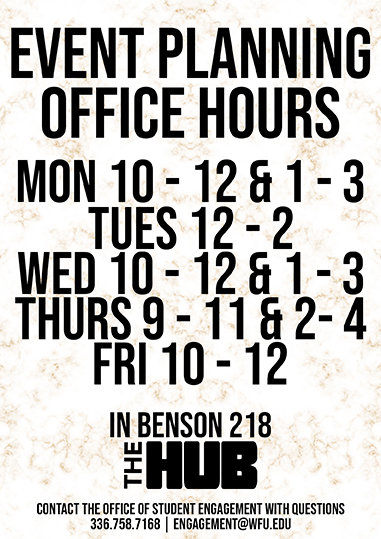 Why attend event planning meetings? There are many benefits to taking part in the event planning process with the Office of Student Engagement!
Student leaders plan events with the best intentions: to create connections with their peers, to destress, to fund raise, or to engage in professional development. The professional oversight provided in event planning meetings helps students rest assured that their events will reach their goal without any major hiccups. The Office of Student Engagement team provides insight on marketing and budgeting
risk management, logistics, and all the necessary details that go into preparing a successful event.
How should I prepare for an event planning meeting? To ensure a safe and successful event, groups must attend an event planning meeting at least 10 business days in advance. Before student leaders attend an event planning meeting in The Hub, we ask that they have already:
(1) reserved space for their event on Deacon Space,
(2) created an event on The Link, and
(3) filled out any necessary forms or waivers (Facilities, Security, Parking, Minor Waivers, etc).
Once students arrive at The Hub, a staff member will review the details on the student's Link event submission and confirm that all the necessary forms have been submitted. We will also provide advising on budgeting and point students towards the Student Organization Finance Office for declining balance cards, fundraising, check requests, etc. We may also direct students to Risk Management for TIPS or Social Host training, if necessary.
Event Planning Resources
How to create an event on The Link
Campus Forms and Waivers:
Facilities: http://facilities.wfu.edu/submit-a-request/
Security: https://police.wfu.edu/forms/request-wfu-police-services-form/
Catering: 336-758-5610 or Under the Oaks Catering website: https://conferences.wfu.edu/community-resources/deacon-dining/
Parking https://parking.wfu.edu/
Student Org Finance Office: http://sofo.wfu.edu
Questions about creating an event and preparing for your event planning meeting? Contact the Office of Student Engagement at 336-758-7168.
Recent Posts
November 26, 2018

November 26, 2018

October 12, 2018